New combination for DEWI-RENT B.V.
Recently, the company DEWI-RENT B.V. from Rittem, the Netherlands, took another beautiful new combination into use. DEWI-RENT is a very versatile company engaged in the rental and sale of various types of machinery. From aerial work platforms, forklift trucks, terminal tractors and large hydraulic winches to temporary housing and office units, DEWI-RENT is the place to go.
View 'folding crane' technique
Activities
The company also specialises in the maintenance and assembly of industrial plants. Under the DEWI WELDING banner, steel structures are also designed and produced for various customers.
To complement his company's existing fleet, owner Henk de Winter opted for a 2-axle low loader with independent wheel suspension. "This allows me to transport an even more diverse mix of machines and to better serve my customers with high loads."
For his first trailer, Henk came to Broshuis several years ago. Back then, a specially customised double-extendable semi low loader was chosen. Because the trailer in combination with a 4-axle Scania with truck-mounted crane had to fit within the maximum size of 16.5 m, the most ideal combination was worked out in cooperation with crane builder CCH from Halsteren.
Because this well-thought-out combination was able to carry out many tricky jobs and attracted a lot of work from his customers, there was soon a need for another combination. However, the new combination to be purchased had to be able to carry even longer loads and also be able to load machines quickly and safely. After much consultation between all parties involved, a 3-axle triple extendable semi low loader with hydraulic ramps was purchased. Again in combination with a new 4-axle Scania with a 95 tm crane equipped with flying jib and all nicely within the legal maximum dimensions and weights.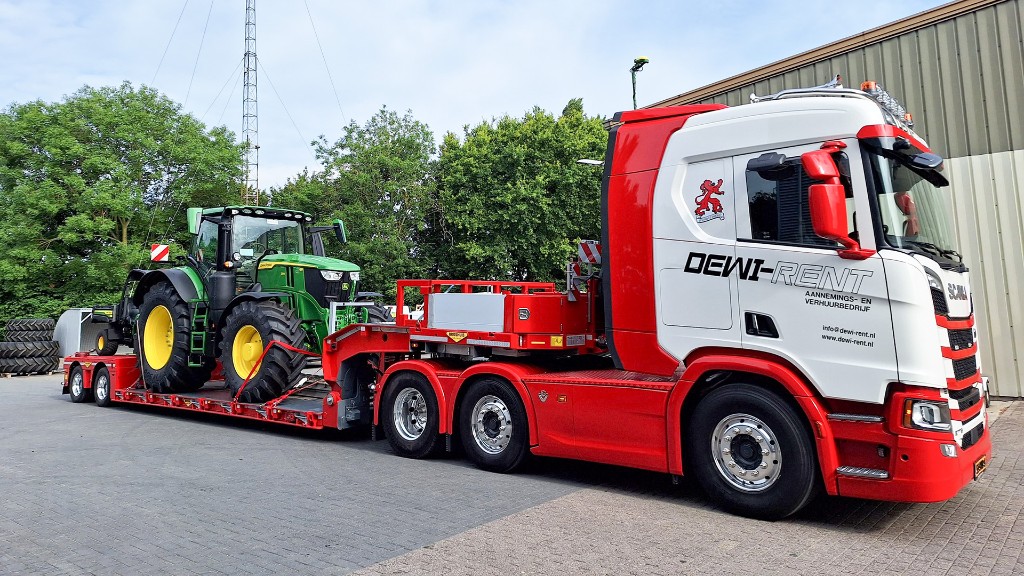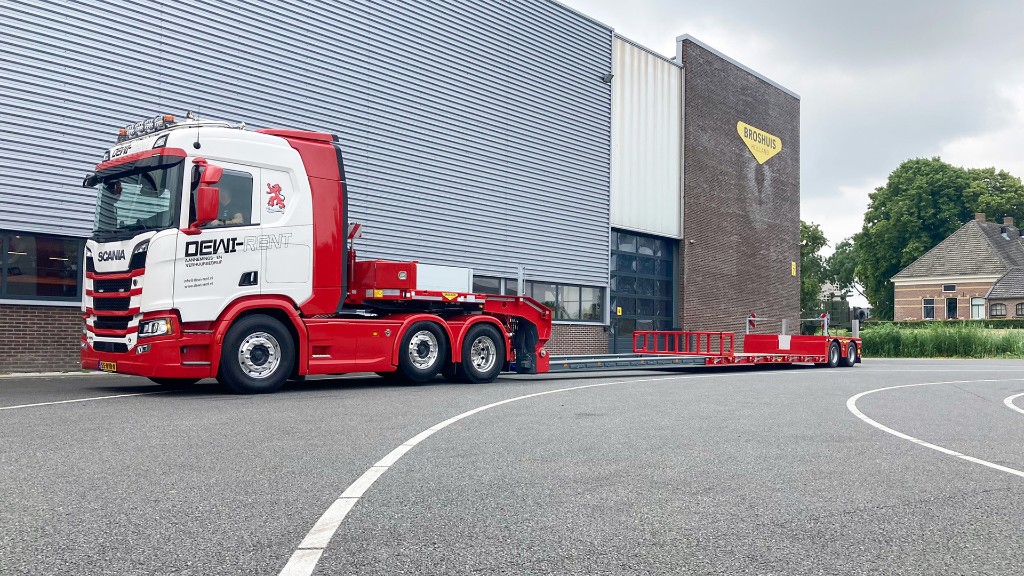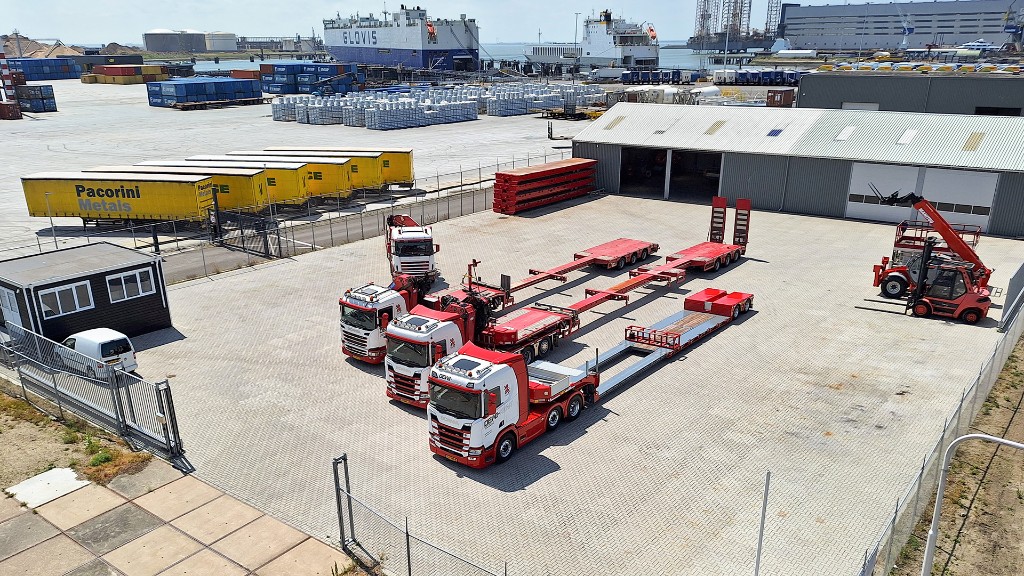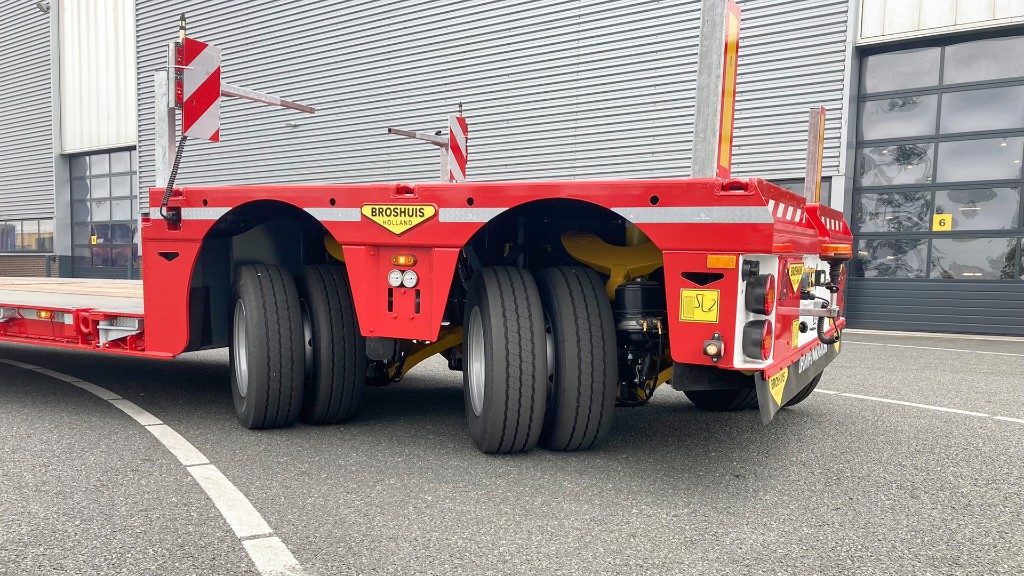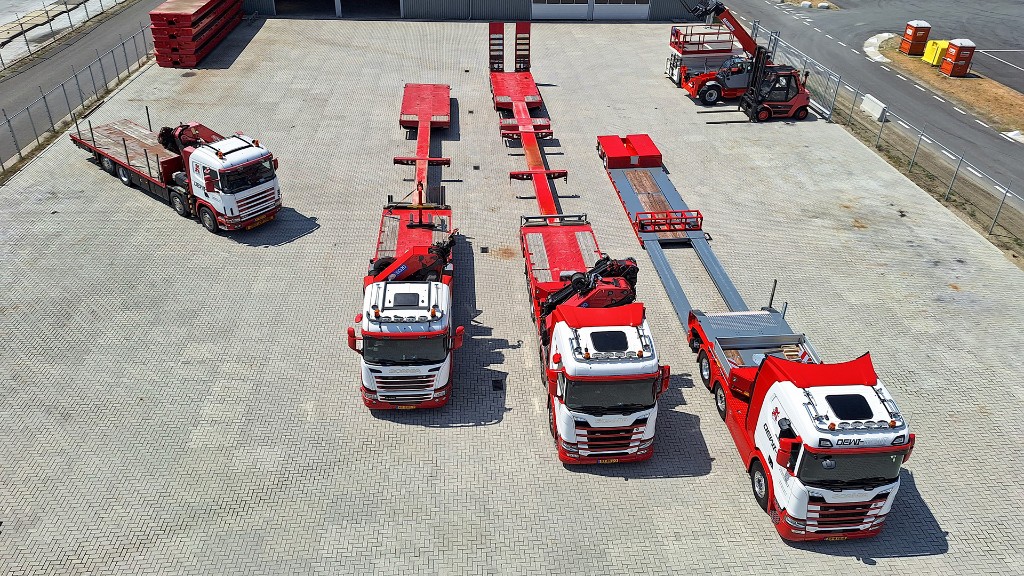 Higher loads
"Now that the length and machine transport was covered with these 2 semi low loaders, I wanted to expand the transport possibilities in height. The 2-axle low loader with a bed height of 22 cm and removable gooseneck gives us huge possibilities towards the future, "says Henk. A 2-axle with hydraulic suspension and independent wheel suspension was eventually chosen for the large steering angle and large stroke in the suspension. "The latter I can use perfectly to jack things up. This axle set combined with a hydraulically movable gooseneck also makes it possible to get a lot of space under the beam when you need to get into hard-to-reach places.
Responsible
"The capabilities offered by Broshuis trailers combined with beautiful and functional trucks means that almost any job can be done without unnecessary transport movements. Highly efficient deployment and therefore cost-effective. Moreover, good equipment with a long lifespan is my idea of responsible investment. Having to buy new equipment every 5 or 6 years because your equipment is worn out is a waste of labour, raw materials and energy. The construction and use of certain components make my Broshuis trailers extremely solid and easy to maintain. The adjustable bearings of the steering system, for example..., that saves a lot of bearing overhauls in the future and thus money and downtime of the trailer."
Why Broshuis
"Initially because Broshuis wanted to build what I needed. A 4-axle truck mounted crane requires a trailer that has to be modified in terms of length and gooseneck construction to stay within the legal dimensions. The position of the axle set under the loading floor is also very important; it can make or break a combination. Broshuis provided valuable input and came up with great technical solutions. In addition, I want solid equipment that my guys can work with comfortably and safely. Working safely has been a condition from my customers for years. I cannot afford it when my equipment lets me down while I am working or if accidents happen."
Related Products
2-axle SL2 low loader is a low loader on independent wheel suspension. This offers advantages over trailers with continuous or pendle axles. The biggest benefit is the low weight, low maintenance costs and a low axle assembly allowing the trailer to run closer to the ground when needed.
This 3-axle hydraulically steered semi low loader is double extendable. Thanks to its hydraulic steering, the trailer follows the truck with great accuracy. Because of the separate axle spacings, this trailer has been plated for 10 tonnes/axle.
This 3-axle hydraulically steered semi low loader is single extendable and is equipped with hydraulic ramps. Thanks to the hydraulic steering, the trailer follows the truck very accurately. Due to the axle spacings, the trailer is plated for 10 tonnes per axle.