Looking for a 7-axle SL2 train semi?
This 7-axle SL2 semi low-loader with independent wheel suspension is specially designed for heavy loads. The trailer extends twice, providing increased functionality.
7-axle train-semi low loader SL2 double-extendable
We have developed a semi trailer with independent suspension, specifically for the transport of various types of trains and trams. This 7-axle vehicle is equipped with a separate butterfly ramp that makes the drive-up angle as shallow as possible to make it easier to drive up. In addition, the loading floor is equipped with detachable rails so that other loads can be transported, in addition to trams and trains.
The loading floor is extremely low due to the independent wheel suspension. That is why this is the ideal solution for rail-related transport. Because the trains and trams are often long, the semi trailer can be extended twice and the first two axles remain attached to the gooseneck for ideal weight distribution. Because the SL2 trailers have a steering angle of 57º, you can still access tight locations, despite the length of the trailer.

General
specifications
2x Extendable
Independent suspension (SL2)
245/70 R17.5 Tires
Movable detachable neck
Load capacity app. 85T
Butterfly ramp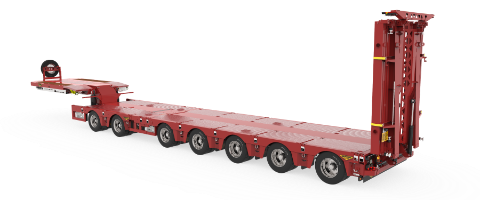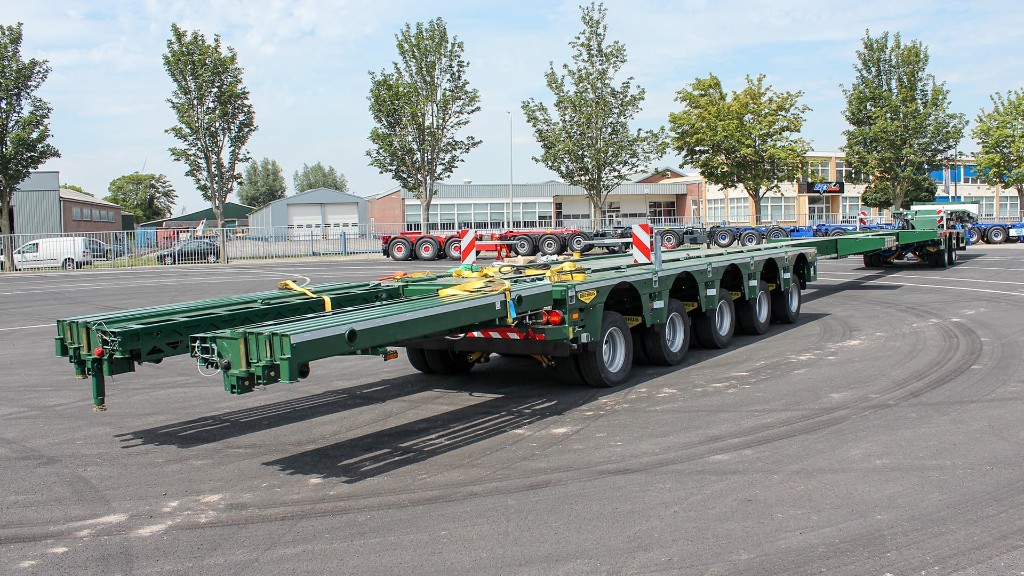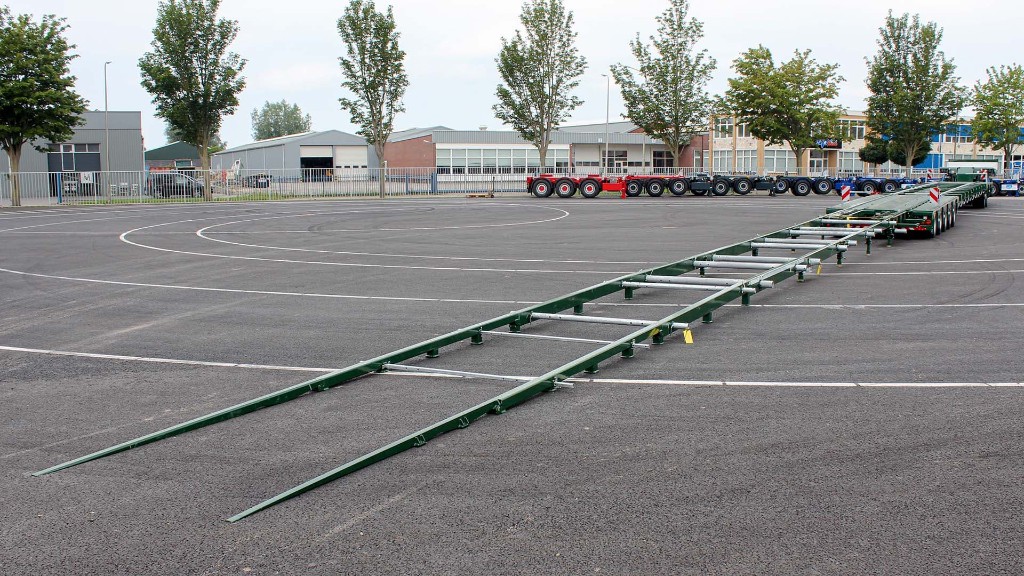 Technical
specifications
Kingpin load 30T
Bogie load 84T
Tare weight ca.30,9T
Platform height 850mm
Extension 13960mm
Total extended lenght 30725mm
Specification sheet
Related
products
This 7-axle semi low loader is constructed as a 2 + 5 version. This variant has a single-extending capability. The SL2 axles ensure a strong trailer, with high payload.
This 7-axle semi low loader is constructed as a 2 + 5 version. This variant is extends twice up to 30 meters. The SL2 axles ensure a robust trailer with a high payload.
This 8-axle SL2 semi low loader is designed as a 3 + 5 version. This variant is single extender. The SL2 axles ensure a strong trailer and high payload.
Innovations
and techniques
The SL2 independent wheel suspension offers many advantages over other axle types. Low weight, lowest loading floor height (from 780 mm), extremely large steering angle and extremely stable handling.
Transporting trams and trains is specialist work. To do this safely and easily, the so-called "butterfly ramp" is used.
The anti-corrosion protection of a trailer is essential, you cannot simply do it 'again', it has to be done right first time!