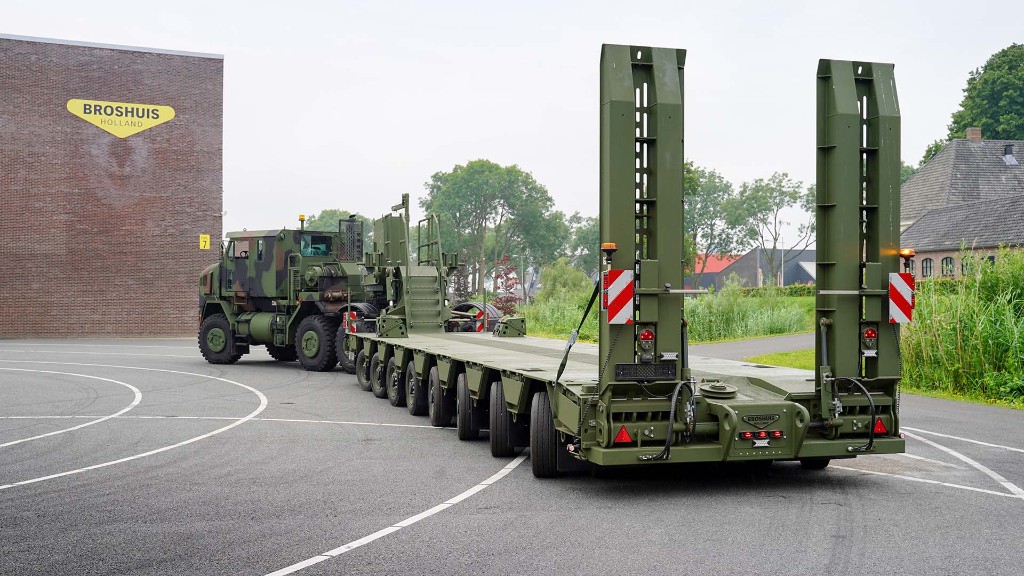 US army puts their 170th
BROSHUIS semi-trailer into use
Our largest-ever order is thus officially completed
US Army puts their 170th Broshuis semi-trailer into use
The US military officially commissioned their 170th semi-trailer. This means that Broshuis B.V has now successfully completed its largest-ever order.
In total, the Kampen-based family business took just under 2 years to complete this order. 170 tank transporters - built as 8-axle pendle axle semi low loaders - were ordered in the summer of 2019 following a period of highly extensive testing. Two prototypes were tested to the limit in America, and Broshuis came out as the winner of the test and was awarded the contract for the delivery of 170 trailers. Immediately after the order was placed, Broshuis set up a special defense line where these trailers were built.
"We are very grateful and proud that we have been able to build these trailers" says Pieter-Bas Broshuis. "It has given us insight into the quality of our trailers and it is always nice to hear that you are the best. We want to be the best and when the big US military confirms that, it makes me very proud of the team. And all our customers can take full advantage. Thanks in part to these extreme tests, we have been able to make all our pendle axle semi-trailers as strong and as light as possible.
We also see that confidence in the many orders from customers who have already ordered from us. Broshuis is now the market leader in pendular axle semi-trailers. These pendular axles are completely developed and built in-house, in order to be able to continue to guarantee the high quality that we always strive for".
More information?
Are you looking for a new semi low loader with pendle axles? Then we are happy to advise you about the possibilities, correct steering behavior for your requirements and the possibility of implementing your specific wishes, like our many satisfied customers who have preceded you:
Building trailers for the defense market is a highly specialised industry. Safety and reliability must be guaranteed and this is a priority of Broshuis. We have gained wide experience in the supply of military specification trailers to defence organizations around the world.