Transport machines above 60t
Oskam Verhuur & Grondverzet BV based in Moordrecht (NL) specialises in agricultural contracting, earthmoving and transport. Founded in the early nineties, the family business has grown into one of the bigger players in these fields. The diversity of its machinery combined with its hard-working mentality and solution-oriented approach has made Oskam a reliable partner for its customers.
The company's transport division has also grown strongly and recently expanded with two new Broshuis trailers. One of them is a 2+4 dolly low loader combination on PL2 HD pendulum axles. This low loader was purchased to be able to transport machines above 60t, such as the large tracked vehicles, by themselves. Allowing Oskam to retain its great flexibility.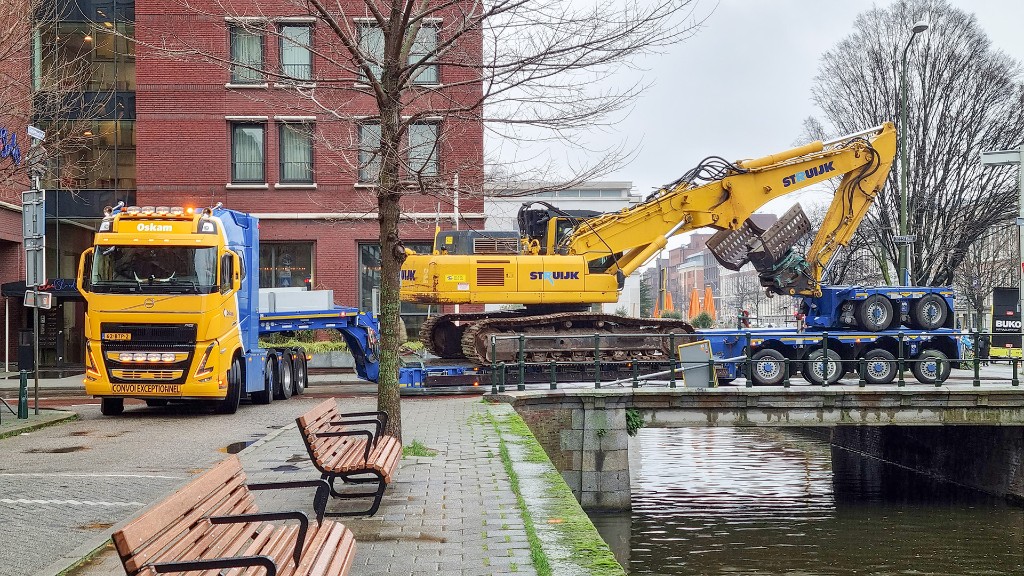 Working in the city centre
That the company is solution-oriented, really shows in the city centres. To get to hard-to-reach locations, they sometimes remove the dolly between the gooseneck and the truck. This is because it allows you to make a shorter turn. This was well thought out before buying this low loader. Thanks to the simple controls, disconnecting the dolly is quick and, above all, safe to do. The 3-metre-wide loading floor also ensures that wide machines can be loaded easily without too much handling. Lifting and lowering of the gooseneck and axle set can be controlled radiographically from the cabin. This gives the driver full control over the ground clearance of his low loader and load while driving.
The hydraulic system in the gooseneck and axle assembly is supplied with oil using the Volvo tractor's powerful PTO. Broshuis aligns the connections and oil flow with the truck builder. An electro-hydro pump is also available as a backup. The oil reservoir is built in the gooseneck, leaving it empty for loads. This allows maximum load capacity on the gooseneck for additional cargo, such as loading shovels, diesel tanks or a material container.
Interesting articles