ECO ramp provides great ease of use
Vemo Tractoren BV from Hoogeveen, the Netherlands, is a well-known trading company of agricultural tractors. Henri Veld founder and owner of Vemo Tractoren is a John Deere enthusiast and this is why the vast majority of his business is John Deere machinery.
For both collecting new trade and taking the tractors to the end customer, Vemo Tractoren deploys its own truck-trailer combination on a daily basis. For this, Henri Veld has chosen a 3-axle self-tracking semi low loader with an ECO ramp. This semi low loader has small tyres and an extremely thin gooseneck. This makes the trailer suitable for a "low deck" truck, making the whole combination extremely low.
This beautiful, but above all well thought-out combination came about partly thanks to the pleasant and good advice from Broshuis. "In response to our wishes, the advisor helped us put together this multifunctional trailer" says Henri Veld.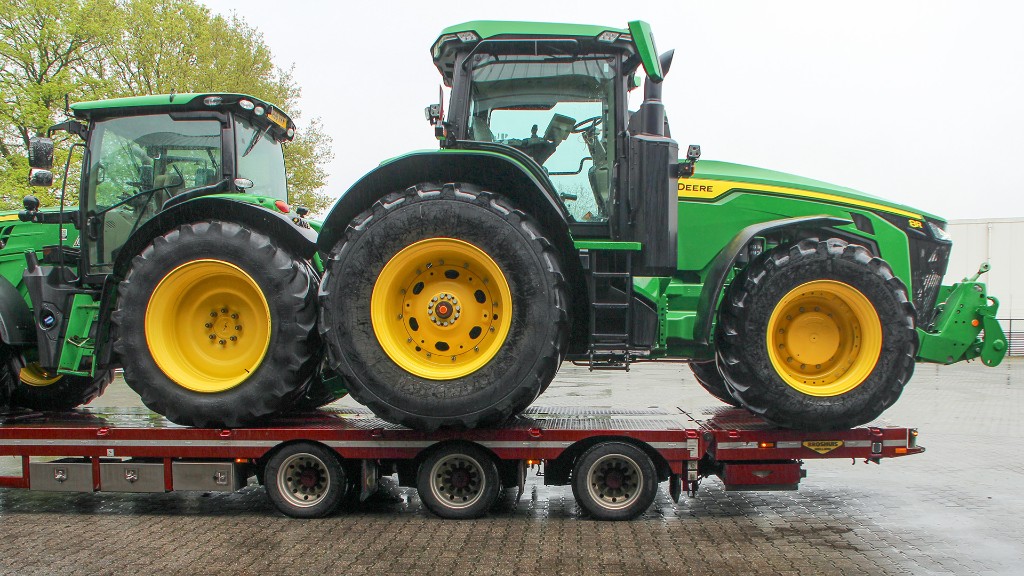 View Solutions
"The decision for this ECO ramp was a well-considered one. We load and unload several times a day. Then I don't want our driver to have to carry those heavy ramp every time. With normal hydraulic ramp, we were restricted in loading space because the ramp is raised in driving position. We were advised to choose the horizontal ECO ramp. With this trailer, I can transport three agricultural tractors at the same time thanks to overhanging load. One on the gooseneck, one in the middle of the loading floor and the other on the ramp. So the ramp counts as extra loading space and this is ideal for my line of business!"
Loading and unloading in this manner therefore allows Vemo Tractoren to work much more efficiently. Lowering the air suspension and lowering the supports takes a few seconds, after which the ECO ramp can be safely placed on the ground by remote control.
"I am very happy with this trailer" Henri Veld continues. "There may have been other suppliers that were slightly cheaper, but this trailer pays itself off in quality and longevity."
The fact that Henri Veld is very happy with his trailer is confirmed by his recent order for another 3-axle semi low loader with ECO valve and a 2-axle SL2 low loader.
Discover our solutions for the transport of agricultural machines

3-axle, self-tracking,
semi low loader with eco ramp

ECO ramp
1x Extendable
Fifth wheel load 18t
Bogie load 30t
Load capacity app. 40t
Total extended lenght 18050 mm