Faster, safer and more efficient thanks to 3-axle semi low-loader with ECO ramp
The philosophy of 'buying a machine that suits you' is key at tractor specialist Koop van der Wal from Flevoland Bant (NL). Together with their customer, they look for the right tractor that fits the job. This philosophy matches that at Broshuis.
"Buying a tractor just because someone else has it too, can cost you later" says Willem van der Wal, owner of the family business. "That also applies to a trailer and the great thing is that they share the same opinion at Broshuis" continues Van der Wal.

Together with the consultant from Broshuis, we discussed my wishes and needs. By combining these, the ideal trailer was created.
The ideal trailer is a 3-axle semi low loader with ECO ramp. With a loading height of 780 mm, an ultra-thin and long neck, and an ECO ramp on the back, this trailer is ideal for transporting agricultural machinery.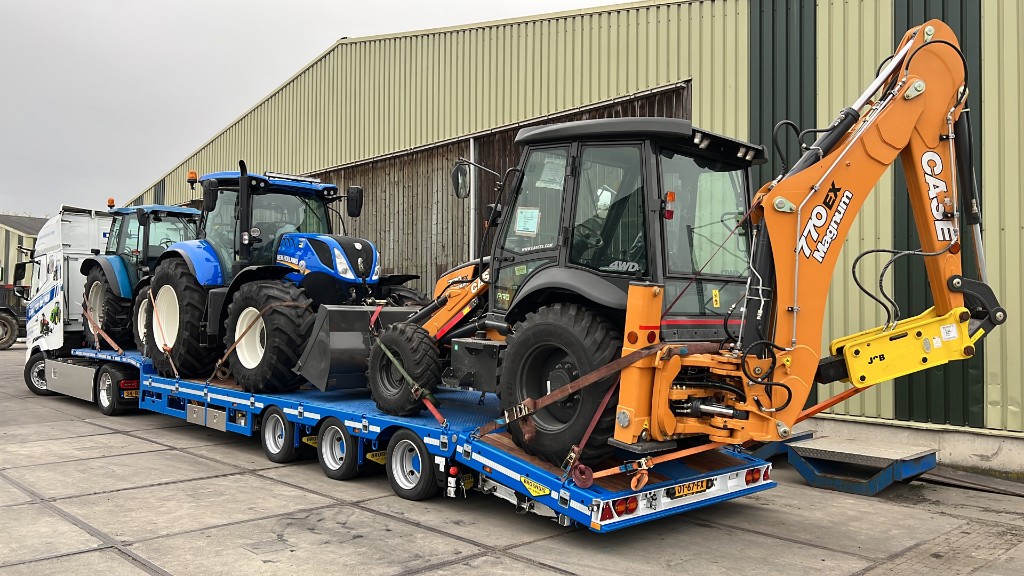 View solution
The entire combination is coordinated so that the trailer can maintain the maximum lengths. This allows the trailer to be fully loaded, from front to back. "We can push the last machine up with the ECO ramp and even transport it with a slight overhang." Says Willem van der Wal.
Both the neck and the ECO ramp have a step of 20 cm. Most tractors and machines can be loaded easily and safely without the need for extra loading ramps.
The ECO ramp is a flexible and sustainable solution. There is no ramp with less drag than this ramp. Because the ECO ramp is no longer upright, but remains horizontal, a proven fuel saving of 20% can be achieved. Furthermore, this ramp can also be used as an extra bit of cargo bed, allowing you to carry more cargo with the ramp up. The ECO ramp can lift loads up to 10 tons.
3-axle, self-tracking, semi low loader with eco-ramp

Eco ramp
1x Extendable
Kingpin load 18T
Bogie load 30T
Load capacity app. 40T
Total extended lenght 18050mm